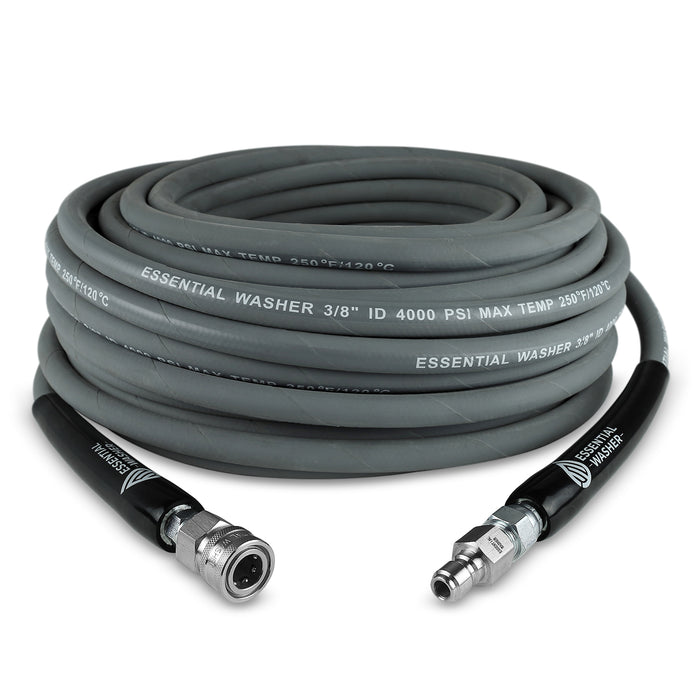 100 FT Grey Pressure Washer Hose | 3/8" Flexibility With Stainless Steel Fittings
Original price
$149.99
-
Original price
$149.99
🌊 Ample Reach, Less Hassle: Say goodbye to constantly relocating your pressure washer. The generous 100ft length ensures a remarkable reach, making cleaning vast areas and swapping attachment devices more straightforward and efficient.
🚀 High-Pressure Prowess: Engineered to manage up to 4000 PSI of water flow, this 3/8" power washer hose ensures a powerful, effective clean every time, standing out as the optimal choice for high-intensity, detail-oriented cleaning tasks.
🛠️ Wire Braid Construction: Featuring a single steel wire braid construction, our hose promises flexibility married with unyielding strength, significantly resistant to wear and tear, assuring longevity and reliable performance.
🚫 Non-Marking Design: Preserve the integrity of the surfaces you clean. The non-marking design guarantees that this hose leaves no trace behind, only a spotless clean.
🔄 Easy Maneuverability: The inclusion of a 3/8" Male NPT Swivel Outlet ensures that your hose movements are tangle-free, enabling smooth, straightforward navigation during your cleaning endeavors.