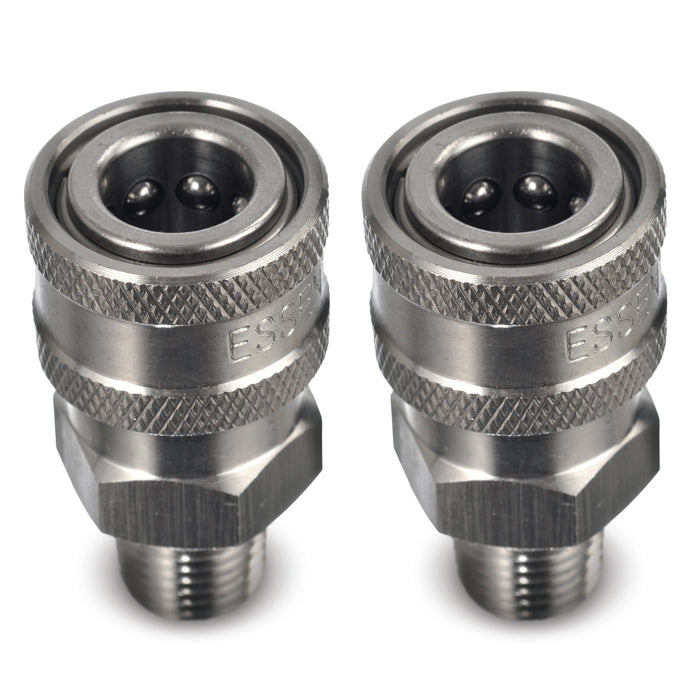 Stainless Steel Pressure Washer Quick Connect Fittings Set Of 2 | Male
Original price
$13.95
-
Original price
$15.95
🔗 Quality You Can Trust: These stainless steel quick connect couplers, recognized for their robustness and resistance to corrosion and wear, serve as an exemplary choice for power washer quick connect fittings, standing tough through the most demanding applications.
💦 Leak-Proof Assurance: Specially designed to facilitate a secure and leak-proof connection, these couplers ensure zero fluid escape during usage, presenting an idyllic choice for pressure washer hose fittings.
🔄 Simplified Usability: Meticulously designed for hassle-free attachment and detachment, these quick connect couplers redefine convenience across varied applications.
🌐 Broad-Based Compatibility: Engage in a realm of versatility, as these couplers display comprehensive compatibility with diverse equipment, hose sizes, and fittings.
⚙️ Product Specifics: This package incorporates 2 – 3/8" Male Stainless Steel couplers, adeptly handling a maximum pressure of up to 5,000 PSI.