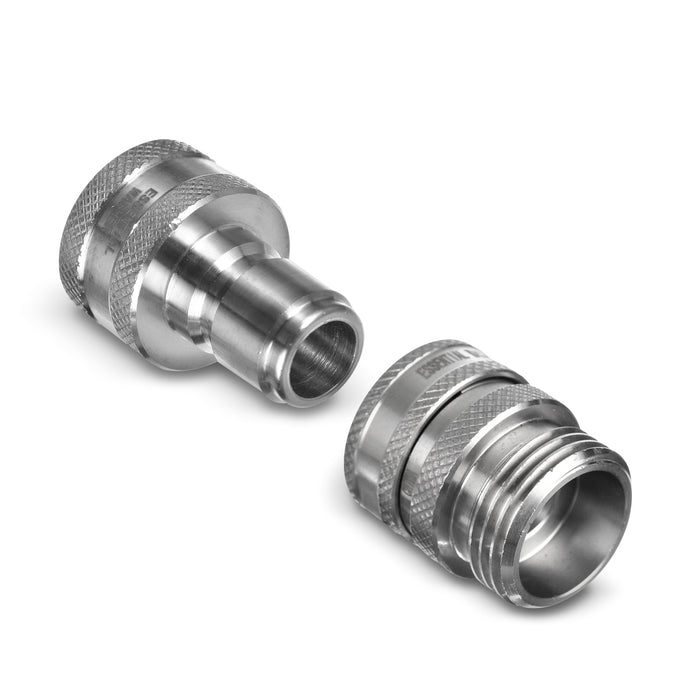 Redesigned 3/4" Garden Hose Quick Connect Set | Solid Stainless Steel Fittings
Original price
$17.99
-
Original price
$49.99
🚿 Introducing the Redesigned Garden Hose Quick Connect Set – Your versatile connector, now redesigned for an even better, leak-resistant seal with O-ring technology and effortless one-handed operation. Dive into a simplified, speedy, and convenient watering experience today!
💡 Innovative Garden Hose Fittings – Crafted to perfection, these ¾ inch garden hose quick connect fittings don't just work; they excel in standard water hose hookups, doubling as a pressure washer hose adaptor, hose coupler, faucet adaptor, RV water hose connector, and more, ensuring compatibility and multipurpose utility.
🚀 Quick, Easy, and Ultra-Secure Connections – Say goodbye to struggles and frustrations with traditional hose connectors. This quick connect faucet adaptor ensures speedy, effortless, and secure connections and disconnections to various watering devices, saving you precious time and avoiding unnecessary frustrations.
🌿 Universal Connector for Diverse Applications – From a pressure washer hose connector to a quick-release hose connector or an RV quick connect water hose adaptor, discover the one connector that smoothly integrates with various devices and occasions, ensuring a seamless and efficient watering experience.
🛡️ Premium, Long-Lasting Stainless Steel – Standing out amidst brass and plastic alternatives, Essential Washer's water hose connectors are crafted with solid 304 stainless steel. Not only ensuring robust performance but also providing a corrosion-resistant, durable solution that will steadfastly serve you for years.
🛒 100% Customer Satisfaction – With Essential Washer, your satisfaction is paramount. Should the quick connect coupler set fall short of your expectations, our customer-friendly policy ensures a replacement or a full refund on your purchase, no questions asked.
🎉 Bonus Features:
Available in Multiple Value Pack Options.
Universal standard 3/4" garden hose quick connect, ensuring compatibility with all hoses and watering devices.
Comes with extra washers for the male plugs, providing a handy solution for misplaced or worn-out washers.
🚫 PROP 65 WARNING: This product may expose you to chemicals, including DINP and/or DEHP, known in California to potentially cause cancer, birth defects, or other reproductive harm. Not intended for use in potable water systems, suitable only for industrial non-drinking water applications.