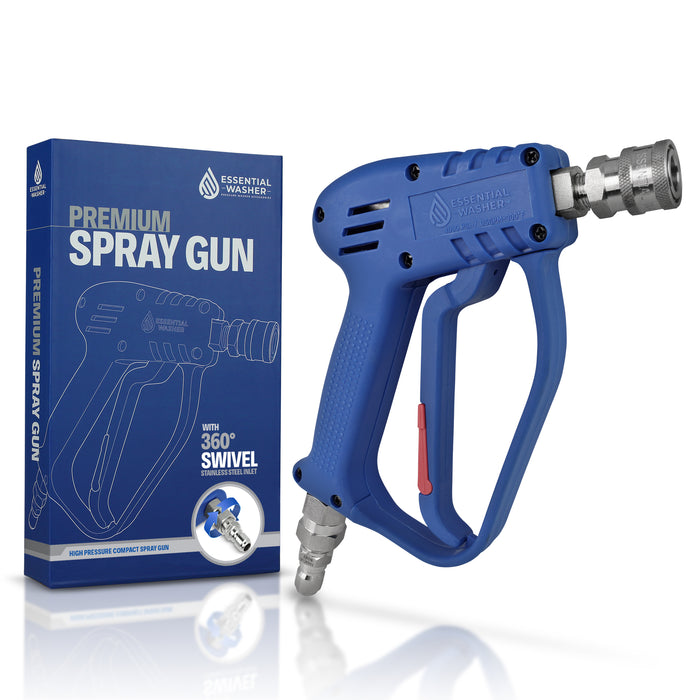 Premium 4000 PSI Pressure Washer Gun With Stainless Steel Swivel | 3/8" Male Plug and 1/4" Quick Connector Coupler
Original price
$49.95
-
Original price
$49.95
🚿 Perfect Spray, Every Time: The lightweight, compact, and ergonomically designed high-pressure water gun is adorned with nickel-plated interior components, ensuring enhanced chemical resistance and corrosion-proof longevity.
🔄 Stainless Steel Swivel: Say goodbye to kinks and hassle with the stainless-steel swivel, designed to reduce strain and fatigue during prolonged use, ensuring your cleaning session remains a breeze from start to finish.
🚀 High-Pressure Power: Boasting a rating of up to 4000 PSI, this pressure washer gun is not only suitable but excels in a wide array of cleaning tasks, ensuring your spaces, vehicles, and surfaces are pristinely clean every time.
🤏 Easy-Pull Trigger: Engage in longer cleaning sessions without the worry of hand fatigue thanks to the easy-pull trigger, carefully designed to provide maximum power with minimal effort.
🔗 Universally Compatible: Functionality meets versatility - easily attach this power washing gun to various pressure washers, both gas, and electric, navigating your cleaning session with comfort and efficiency.
🔥 Max Heat of 300°F: With a maximum heat threshold of 300°F, rest assured that the power and stability of your cleaning tool are never compromised, even under rigorous usage.