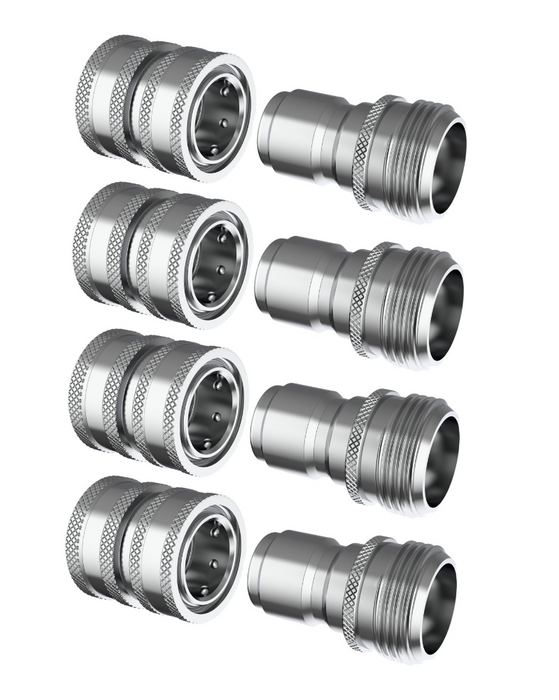 Garden Hose Quick Connect Set | Premium Stainless Steel 3/4" Quick-Connect Fittings | 4x4
Original price
$46.99
-
Original price
$46.99
🔄 Versatile Applications: Tailored to seamlessly pair with standard ¾ inch garden water hose systems, this set doubles as a pressure washer hose adapter, quick-connect faucet adapter, RV water hose connector, and more, assuring adaptability that thrives across diverse watering circumstances.
🔗 Swift & Secure Connections: Experience the simplicity of easy on/off quick connect faucet adapters that minimize time and maximizes efficiency. Your garden hose coupler has been designed to shield you from frustration and leaks, ensuring a secure and steadfast connection every time.
🛡️ Unyielding Stainless Steel Construction: Surpassing brass or plastic counterparts, our connectors, forged from 304 solid stainless steel, pledge an unwavering stance against wear and weather, promising a steadfast companion through your gardening and cleaning journeys.
🌿 A Set Tailored for All Needs: Enclosed are four quick connect sockets and four plugs, harmonizing with 3/4" inch garden hose fittings, watering devices, and sprinklers, ensuring a universal match and easy shift between various attachments and faucets.
🎁 Extra Assurances: We've enclosed additional washers for male plugs, safeguarding against potential misfortunes of wear or misplacement.
💯 Customer-First Policy: Your satisfaction propels us. Thus, should your experience fall short, our 100% Customer Satisfaction Guarantee ensures either a replacement or a refund to affirm our commitment to you.
⚠️ Safe Usage Advisory (PROP 65 WARNING): Exposure to chemicals, including DINP and/or DEHP, found in this product, is known to the State of California to pose potential cancer and birth defects or other reproductive harm risks. Our products are designed for industrial non-drinking water applications.