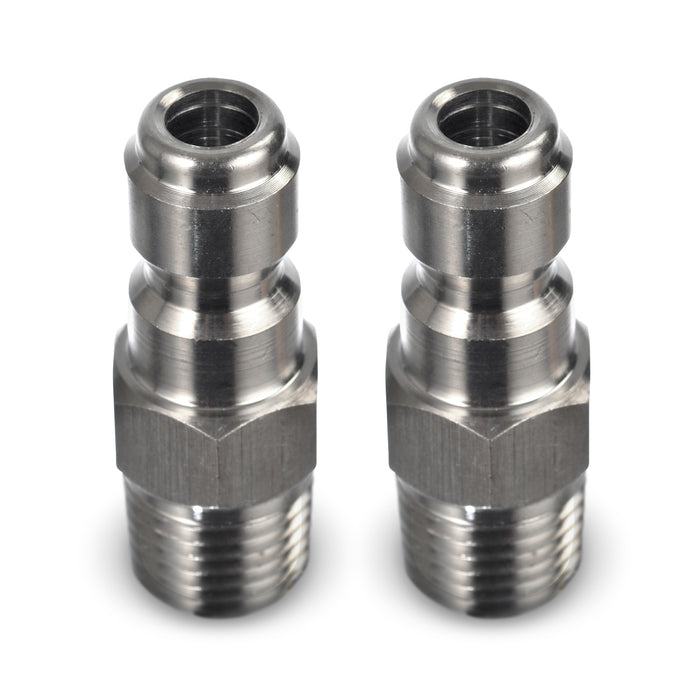 Stainless Steel Pressure Washer Quick Connect Plugs Set Of 2 | Male
Original price
$10.95
-
Original price
$12.95
🔩 Tailored Options: Choose from 1/4" or 3/8" Male Stainless Steel quick connect plugs, each diligently crafted to sustain pressures up to a formidable 5,000 PSI.
🛠️ Dependable Durability: Experience enhanced durability with our stainless steel quick connect plugs, exhibiting superior resistance to wear and breakage compared to their brass counterparts, promising a lengthy and dependable lifecycle even amidst rigorous use and challenging environments.
🚫 Unyielding to Corrosion: Navigate with confidence through moist and humid conditions, courtesy of the stainless steel's intrinsic resistance to corrosion, assuring no rust or material decay even when persistently exposed to water and other corrosive agents.
🔄 User-friendly Interactions: Featuring design elements for straightforward attachment and detachment, these 1/4" and 3/8" quick connect plugs assure you a hassle-free and expedient user experience across diverse applications.
🌐 Broad-based Utility: Unleash the multifaceted functionality of these universal stainless steel fittings, compatible with an extensive range of pressure washing equipment including wands, hoses, surface cleaners, and foam cannons, providing you with a wide array of usage possibilities.